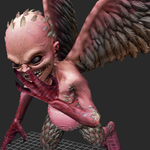 We've had a lot of questions about Broken Ranks lately. Is it coming? When? How? Will you delete my account/character/equipment and so on and so forth? Many people ask questions, many people answer to the best of their knowledge. In order to make some matters clear, we've created this short FAQ that will be expanded when new issues arise. Welcome to the world of Broken Ranks 🙂
1. When will you release Broken Ranks?
As soon as we can. The feedback and the amount of work we'll have to do as part of the beta will be the deciding factor when it comes to the release date.
2. Will Broken Ranks gameplay be similar to Skyrim or Oblivion?
The point of view will be exactly the same as now, but we'll be able to add additional effects to maps (better animations or dynamic lightning). The famous 3D will be best visible in combat where you'll be able to admire the new models with animations that will be much better than the current ones. Just watch the trailer 🙂
3. Why do we need 3D? 2D is cool and doesn't get outdated so quickly.
The current technology used by Taern is very dated. We've reached the limit of what we can do with it. Throughout the 6-7 years of our existence on the market, Taern has grown from a tiny game into a really large mmorpg. At the moment, the old engine hinders our every move. Adding new functionalities is cumbersome and it's hard to detect bugs. The compilation of client code takes long and there are no good debugging tools.
Why don't we just use a newer 2D engine then? Because a 3D engine gives us many more options – all characters will look better. Animations of 3D objects look much nicer than 2D ones, we can also add dynamic shadows and lightning that will give the game more depth.
Apart from that, we want to change every frustrating functionality of the old version. The interface will be overhauled and will become much more functional. E.g. the XP bar in the 3D version will be visible on the main screen. Thanks to this you'll be able to see your character's progress in real time, without the need to open additional windows.
4. My PC is 400 years old. Will I need to buy a new one?
Some day for sure 🙂 Broken Ranks will run even on a PC that was average 8 years ago. We're trying to keep the requirements similar to the 2D version. At the moment, the prototype runs smoothly with minimum graphic settings at 30 FPS on our 8 year old laptop used for testing. (HP Compaq Nx7400, Intel T2250 M 1.73 GHz, 1 GB RAM, 60 GB HDD, GPU Mobile Intel 945 GM).
Minimum system requirements for PC:
GPU: Mobile Intel 945 GM, ram: 2gb, cpu: core 2 duo, HDD: 3GB free disc space
5. What does it mean that Taern will be cross-platform?
That you'll be able to play it on your old GameBoy. Just kidding, maybe not a GameBoy but SNES for sure. Broken Ranks will be released on most platforms. Two versions for PC and Mac: client and browser, an Android version and an iOS version. Unfortunately, Linux will not have its own client. You'll have to play in the browser. Currently there are no plans to release a Windows Mobile version. The technology we're using does not support these platforms.
6. If I decide to transition to the 3D version, will I lose all my characters?
No. Your whole account will be migrated to the Broken Ranks servers. We don't have a policy of migration ready yet, but we think the English server will simply be transitioned to the new version. Together with all the accounts. We'll also create one new 3D server and one new 2D server. If you so desire, we'll move you to the 2D server. That's how we think it'll go, but we'd like to know your ideas and opinions on this subject. Let us know in the comments or on the forum.
7. What about guilds? Will they be moved too?
Guilds will undergo the same treatment as user accounts. They'll be moved to the new version by default, we don't know yet if we are going to migrate them back to the 2D server. Generally, any solution for guild and account migration will have to fulfill one key condition – it'll have to be automatic. We cannot move single guilds and then settle disputes about who wants to play in 3D and who want to go back to 2D.
8. If I start playing the 3D version and don't like it, will I be able to migrate my characters back to the old server?
Yes. The aforementioned migration system gives you this option. All accounts will be automatically migrated to 3D but accounts created in the old version will have an additional option (a button in character selection screen) to move back to the 2D server.
9. Will you be updating the 2D server?
Most likely no. The 2D server will not be receiving any support for technical reasons. Only key bugs will be fixed. The server will use the engine that is live as Broken Ranks is launched.
10. Will we be able to enter the beta?
Yes, we'll want as many people testing as possible. First, we'll have to test the client internally. Then we'll invite testers with experience in testing the old version.
This is the initial list of answers to the most frequently asked questions. We want to expand this FAQ and that's why you shouldn't hesitate to ask any questions about Broken Ranks. Ask, comment, post – here or on the forums.
11. What will the system requirements be for the mobile version?
Android: 1GB RAM, 1280×720 screen and dual core processor. Our test device with the worst specs that should run the game more or less smoothly is samsung galaxy tab 2 (an average tablet 4 years ago) and Sony Experia S (high-end phone 4 years ago). The minimum screen size for comfortable gameplay is 4.3″. The bigger the screen, the better your experience.
IOS: We haven't started testing on apple devices yet. Due to screen size, we probably won't support phones older than iPhone 5. The oldest supported tablet will be iPad 3 (iPad 2's resolution might be too low).
Updated on 10.05.2016.
12. You've mentioned deleting some quests from the current version of the game. Which ones and why?
At the same time we would like to assure you that we're not going to delete anything from the main story and we will continue expanding it.

13. Why, instead of creating new servers, don't you just add a button in the settings to switch between 2D and 3D?

It's theoretically possible, there aren't too many changes server-side. Most of our work involves getting the client to work. However, this solution would complicate the server-side code structure (which would lead to more bugs) and would make any updates much slower. We would have to always prepare two patches – one for 2D and one for 3D.
14. Will the amount of data downloaded change with the 3D version?

The browser version will be a bit more transfer-heavy than now. We estimate the increase to be about 30%. So when downloading background art for combat, character models in combat/on the map, you'll use 30% more transfer. However, the transfer used to communicate with the game server (after graphics are loaded in the www/client version) will remain the same. So when using the client, the additional transfer will be limited to minimum and it'll increase slightly in the www version.
15. Will Taern: Broken Ranks run on Windows XP?
Yes, it will.
16. Will Taern: Broken Ranks run on Linux?
Yes, it will, but only in the browser version. We have no plans to develop a Linux client.
17. Will the release of Taern: Broken Ranks change how we log into the game?
You'll log with the same accounts as you do now.
18. Will you be present on Steam?
Yes, we would very much like to be present on Steam too.
19. How are you going to organize the early tests of Taern: Broken Ranks?
Only engineers will be involved in the initial stage of testing. When the most obvious bugs are eliminated, we'll start inviting our players. We will prioritize testers who have already proven themselves when testing the 2D version. Next we will do open tests. Players with no previous testing experience will also be invited then.
20. What technology/engine will Taern: Broken Ranks use?
Technology: Adobe AIR / Adobe Flash
Engine: Away3d + Starling + Feathers