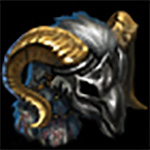 Closed Beta 1 was a great success – the a look at our report and conclusions as we prepare for stage 2! Take a look at the summary of the Easter event and at our Broken Ranks progress.
Easter Event
The Easter event is now over and we're happy so many of your participated. Maybe it's the magic of Tup-Tup? 😉 Who knows… Anyway, we think that the Easter helmet looks very good and fits well with other items. A lot of people have used the helmet in interesting combinations. If you didn't or couldn't participate, don't worry. You can always buy the skin from other players.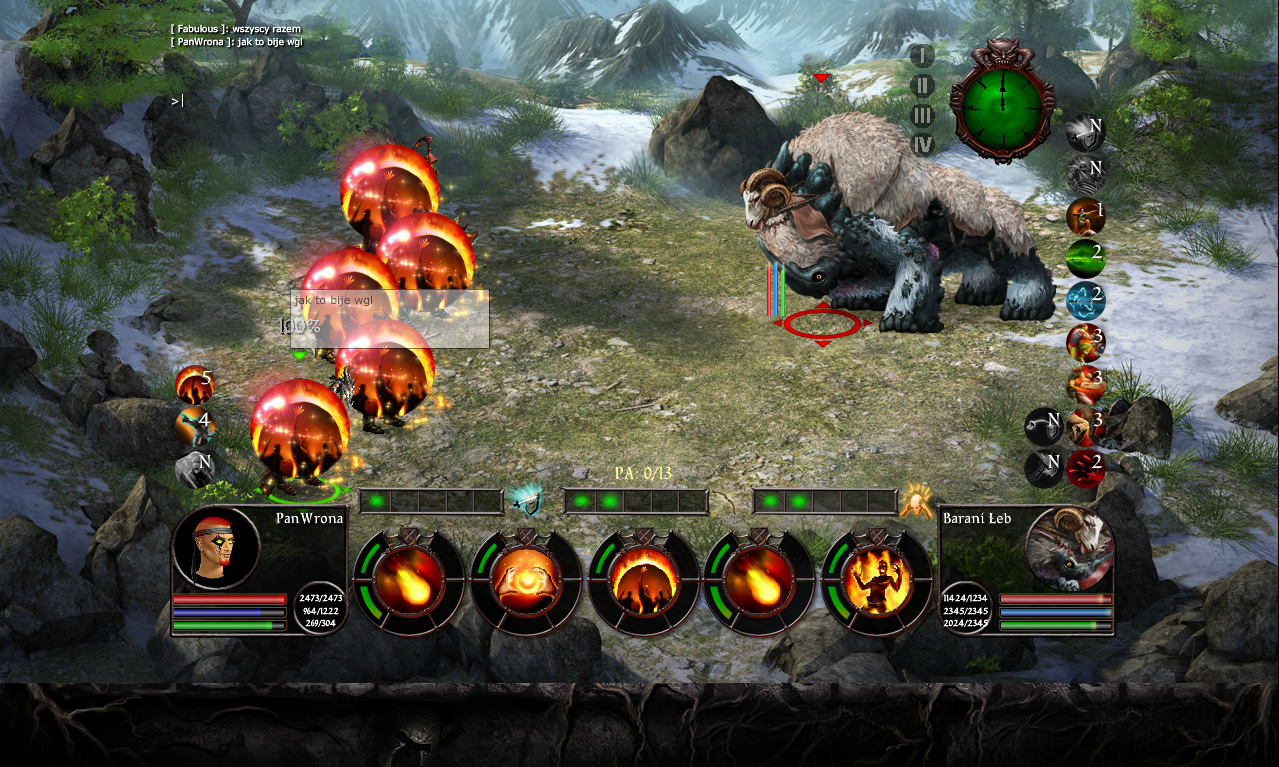 As promised, next year you're going to get a new skin that'll fit with the rest of Easter equipment so that you can slowly collect an Easter set. OK, it's time for this year's stats:
| LEVEL RANGE: | EXP TASKS: | PET EXP TASKS: | MANUALS EXCHANGED FOR SKINS: | PSYCHOEXP TASKS: |
| --- | --- | --- | --- | --- |
| 1-29 | 669 | 6 | 4 | - |
| 30-65 | 518 | 166 | 2 | - |
| 66-89 | 564 | 55 | 1 | - |
| 90-109 | 289 | 86 | 0 | - |
| 110-139 | 270 | 96 | 0 | - |
| 140 | - | 43 | 0 | 130 |
During the weekend, you managed to collect this many Easter eggs:
And the top gatherers were:
HereticVd – 43509
TheAnimal – 38003
PvE – 32019
Margery – 23905
KeiraRose – 16684
Aenian – 16674
For every 200k eggs, 1 hour of double xp/psychoxp is in order:
17.04. 7PM-10PM server time (instead of egg gathering because I'm sure you're tired of it)
We wish you a lot of experience!
Closed Beta 1 conclusions and progress
We can safely say that the tests were a great success. It's not only our opinion – the testers and members of the dev team who had their first contact with Broken Ranks think so too. What is more, everybody was so absorbed that we had to extend every session – everyone wanted to level up. 😉 Of course there were some errors but that's why we have beta tests – we need to find as many of them as we can. In any case, there were fewer than we expected.
Both over the course of the game and during testing sessions, you can't get away from an aspect that is the cornerstone of every MMORPG – socializing. Broken Ranks is not a single player game, so in some cases you need to gather a party to finish a quest or fight a boss.
Leveling up was going smoothly, cooperation was blooming, so we didn't have to wait long for bosses to be defeated. We killed some Chieftains, Cross-Spiders, Ichtions and even some bosses in the Tower. Our testers were happy that many of them were nicely enhanced. We also dropped a lot of equipment.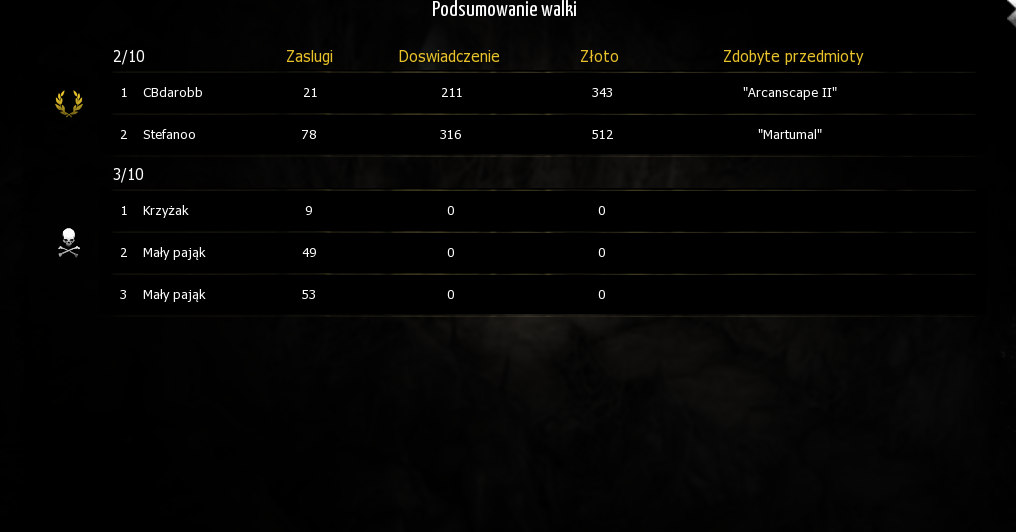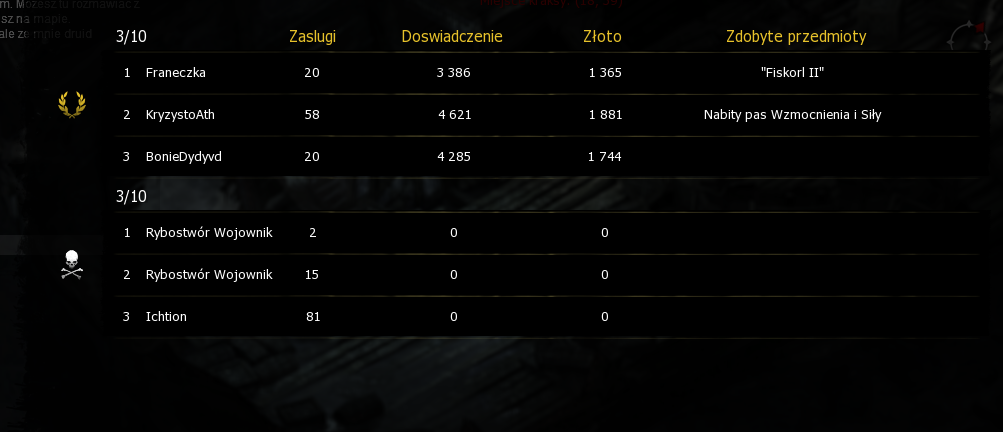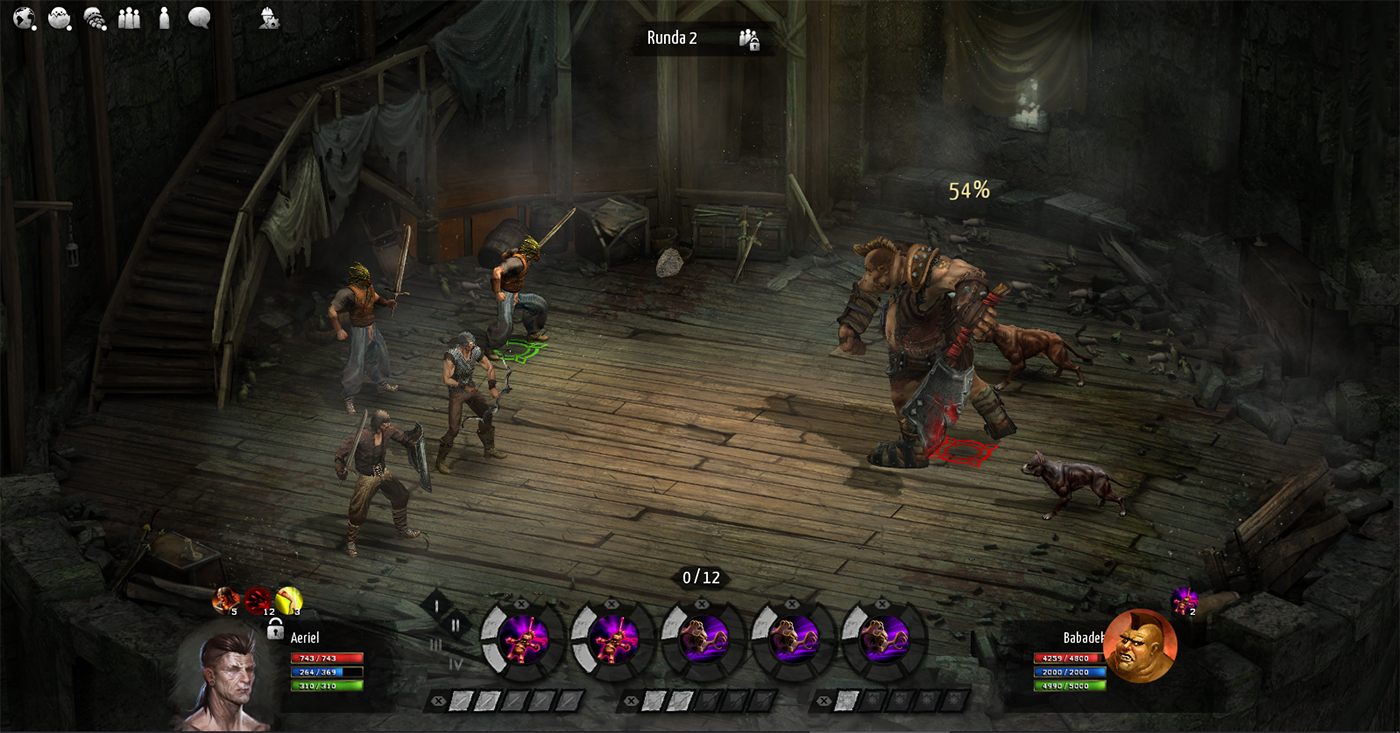 We got a lot of solid feedback about the tested content and also some additional suggestions about animations, graphics, mechanism and gameplay. In addition to that, the tests gave the dev team a chance to confront their assumptions with reality by observing how players act, what they expect and what elements they pay attention to.
The chat was very much alive despite the fact our testing team wasn't that numerous. 😉 We also had a chance to test Discord which will most likely replace Team Speak in near future. It was very nice to hear our testers say things like "I feel as if in a completely new world but with the unique atmosphere and nostalgic moments of Taern".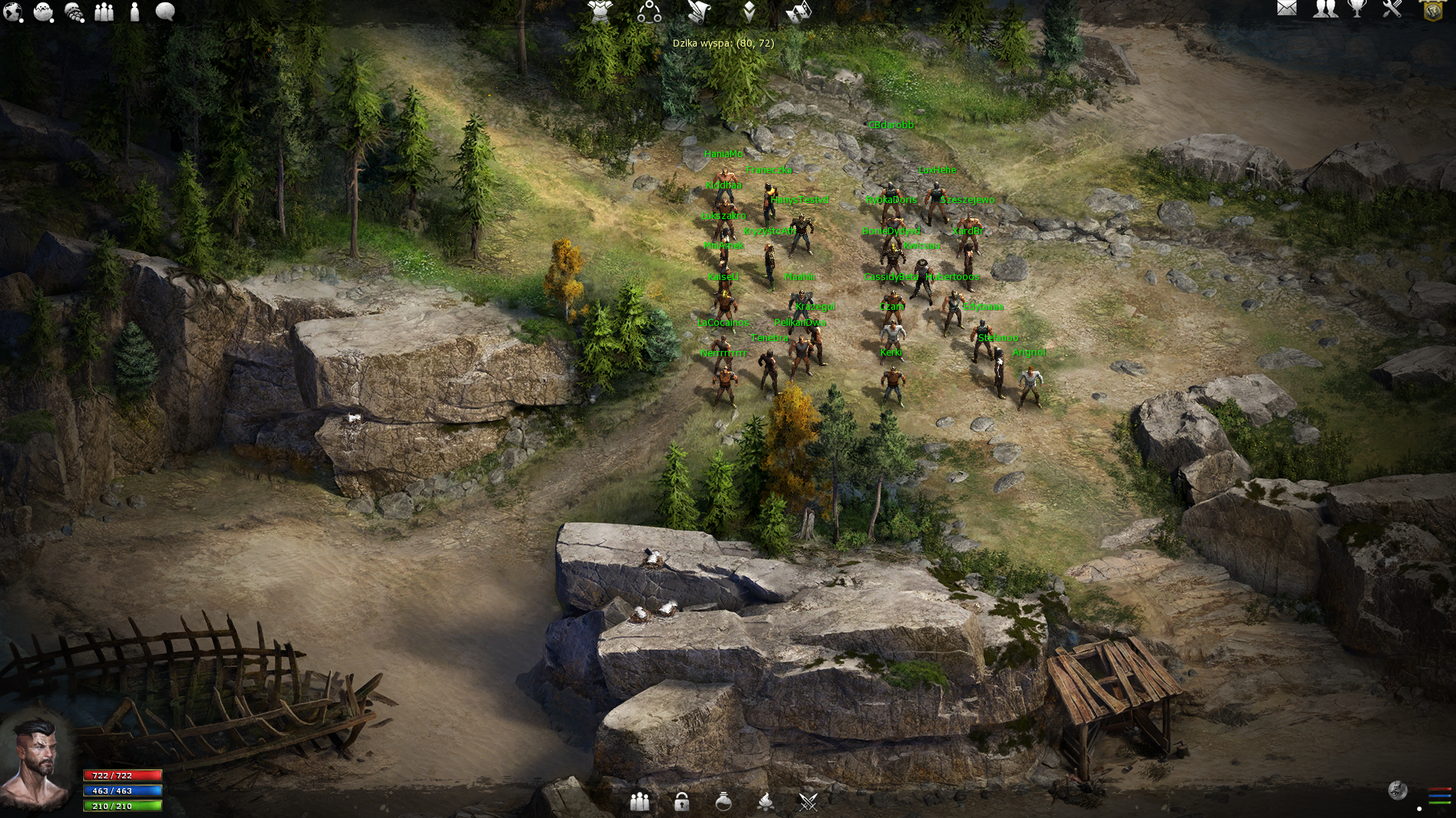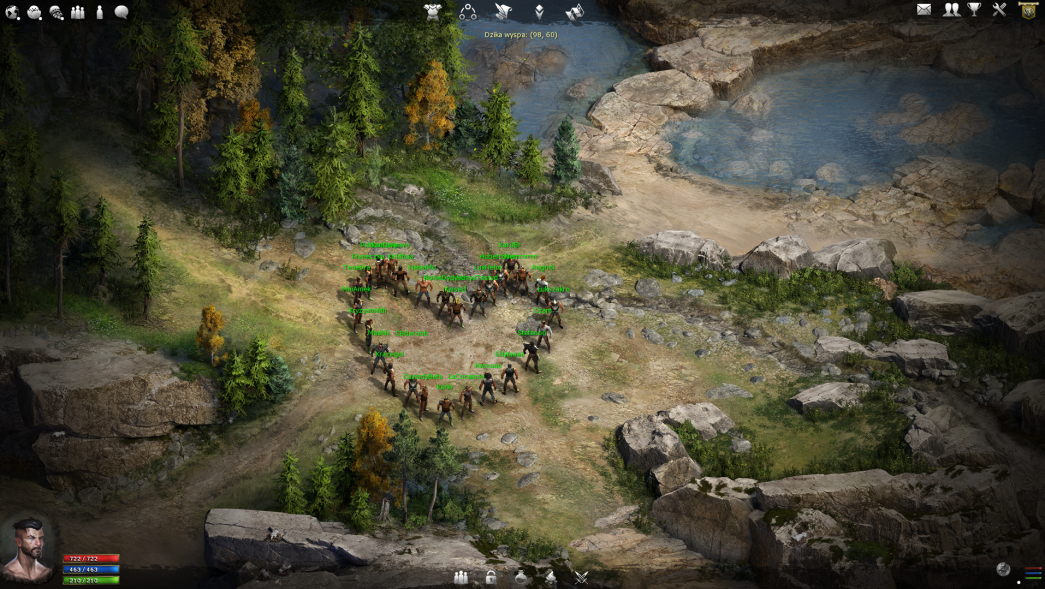 What's new in BR?
Above you could read how the tests progressed, now it's time for some conclusion and information on what's next. The first Closed Beta tests ended with a very positive feeling that we are on the way to give you a new, better version of your favorite game. 🙂 We collected many comments and feedback. After an initial analysis of our questionnaires and forms, it's clear that most of the things you said were problematic are the things that were at an early stage of development.
Balance and world map
The new balance at the beginning of the game (we told you about it in one of the previous blog posts) turned out to be a success. Players had time and opportunity to explore many maps and finish a lot of quests, and character development, despite being slower than what we currently have in 2d, really let us immerse ourselves in the game world, as it should be in any fun MMORPG. Our criteria and calculations of characters development speed, number of quests for a given level, ways to earn gold and rewards worked pretty well. We still need to polish some rough edges and start working on further areas.
The features of the world map (exploration map) turned out to be great. It's the single most important thing that we need to expand and polish for the second part of Closed Beta – we want navigation in the game to be even more efficient. The exploration map was available in its basic version. It showed: taken and tracked quests, a summary of your progress, shops and pet vendors. Our testers really needed more hints on where to find quests, information about tasks and level requirements (whether they can take a task/quest or not). These are the things we're currently working on.
We're also going to add more useful information – boss and event locations, etc. And, of course, we'll add some filters to keep the map clean.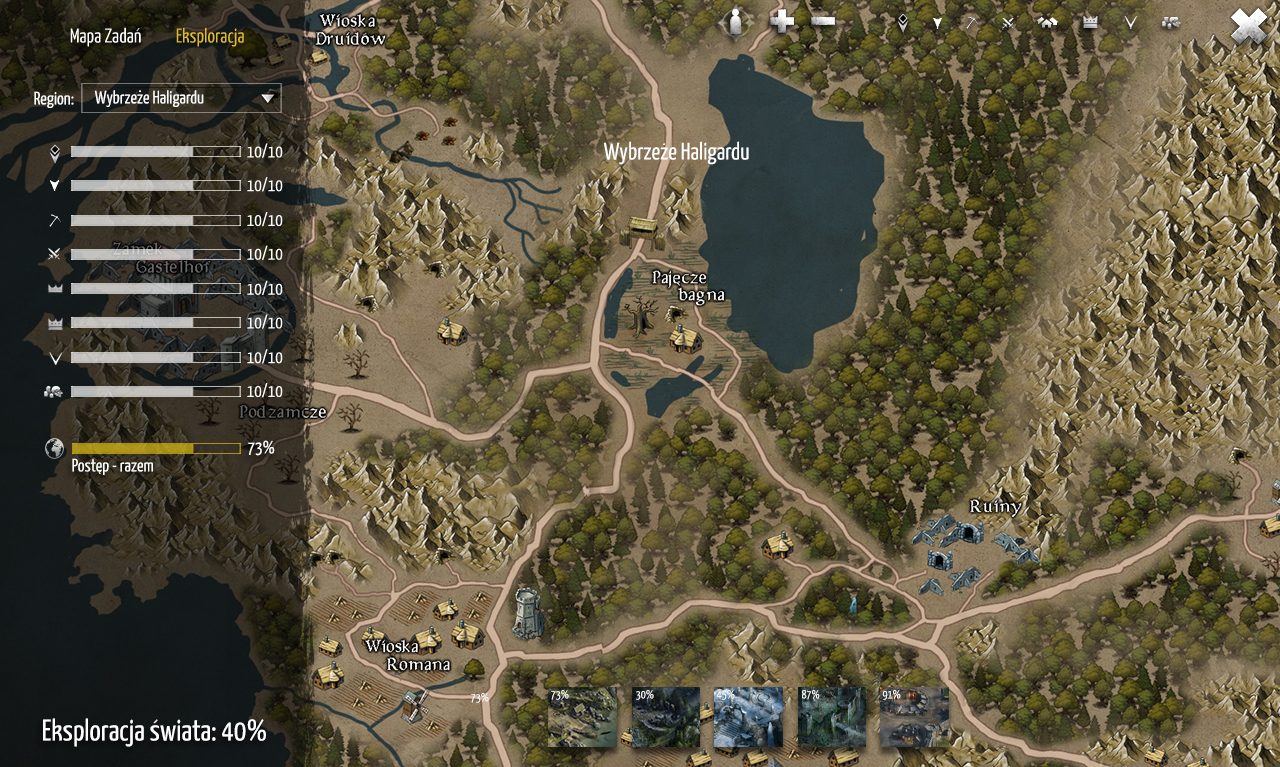 Combat and animations
The visuals of combat are a very strong influence on the evaluation of our game as a whole and some of our testers thought that player animations were too stiff and static. An additional problem was that there weren't that many unique stances and animations for each class. They were too alike. We decided to make a bold move – we won't be using universal animations or stances of the player character. By that we mean animations that assume that each class can wield every type of weapon. The need to create universal player animations is a big restriction for us. If we make each class use only their class weapons, we can do much more. Thanks to this, we'll make each class different and better adjust the visual layer without changing game mechanics or increasing game size. We've already taken first steps in this direction – we're working on the Barbarian.
Interface and chat
The biggest hurdle was definitely the visibility of interface icons. This is also something we want to improve for CB2. Apart from that, most of the other suggestions were about minor details that we need to polish. Polishing things is something we're going to do until release.
One more major problem was the chat and its interaction with keyboard shortcuts. This is also something we want to fix for CB2. We are also thinking about a general overhaul of the chat. We aren't sure if we should be polishing the chats as you know them from 2d or maybe take a completely different direction and look to other MMOs to see how they function there. We'll know more once the second portion of testing is complete. Or maybe you can think of a chat system that you really like? Let us know in the comments 🙂
Quests, bosses, instances
No changes here: quests were always our strong suit and now they're even better. 🙂 We still need to work on the prologue (especially the graphics) and there are still some small things to fix in quests. Bosses and instances – the changes we've made proved to be great so we aren't touching anything right now. We're focusing on further content. Closed Beta 2 will have a bigger scope than CB1.
Other things in BR
Tests are important but we're not focusing solely on them. 😉 At the same time, we are hard at work on filling the blanks and polishing our content. Here are some images – the concept arts of the Andayans, Lodge sorcerers from the main storyline and the final Geomorph.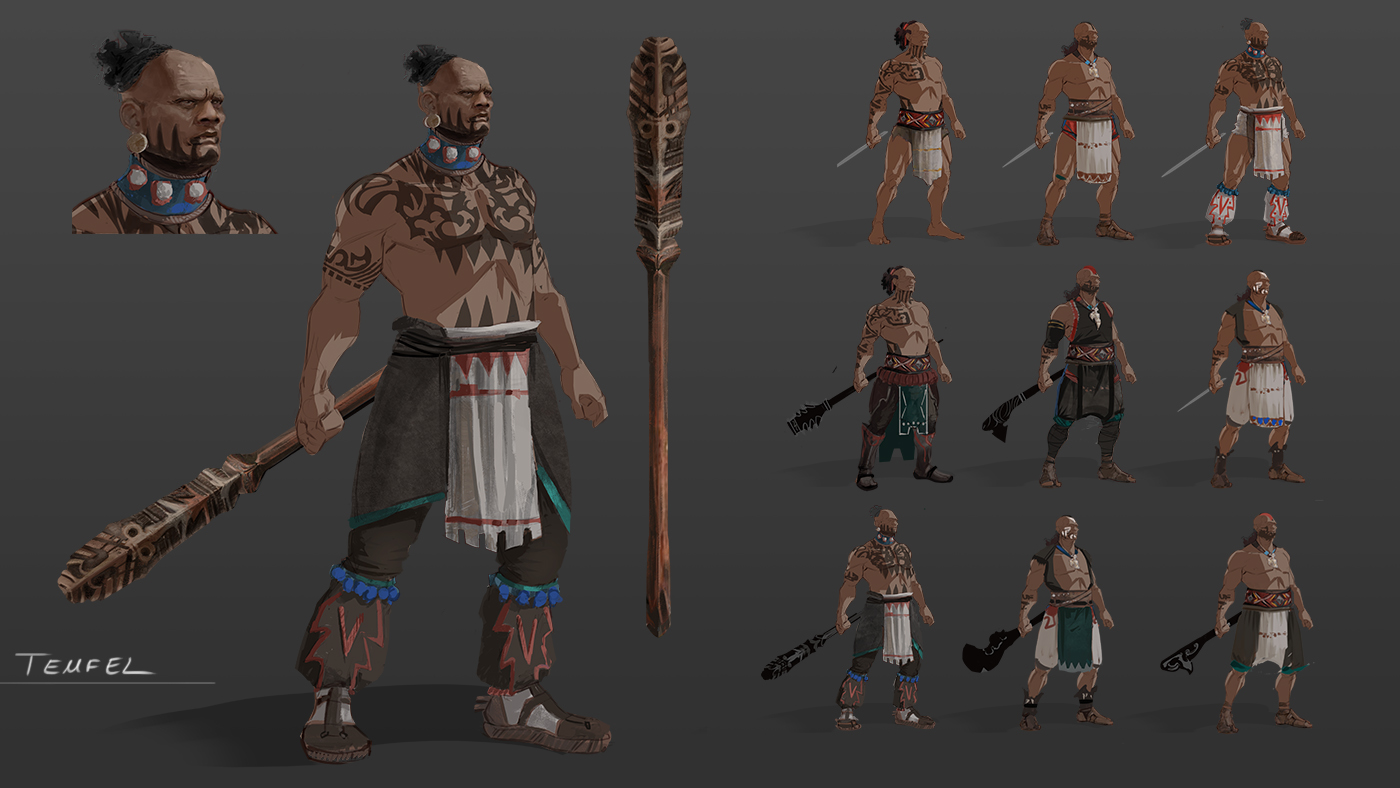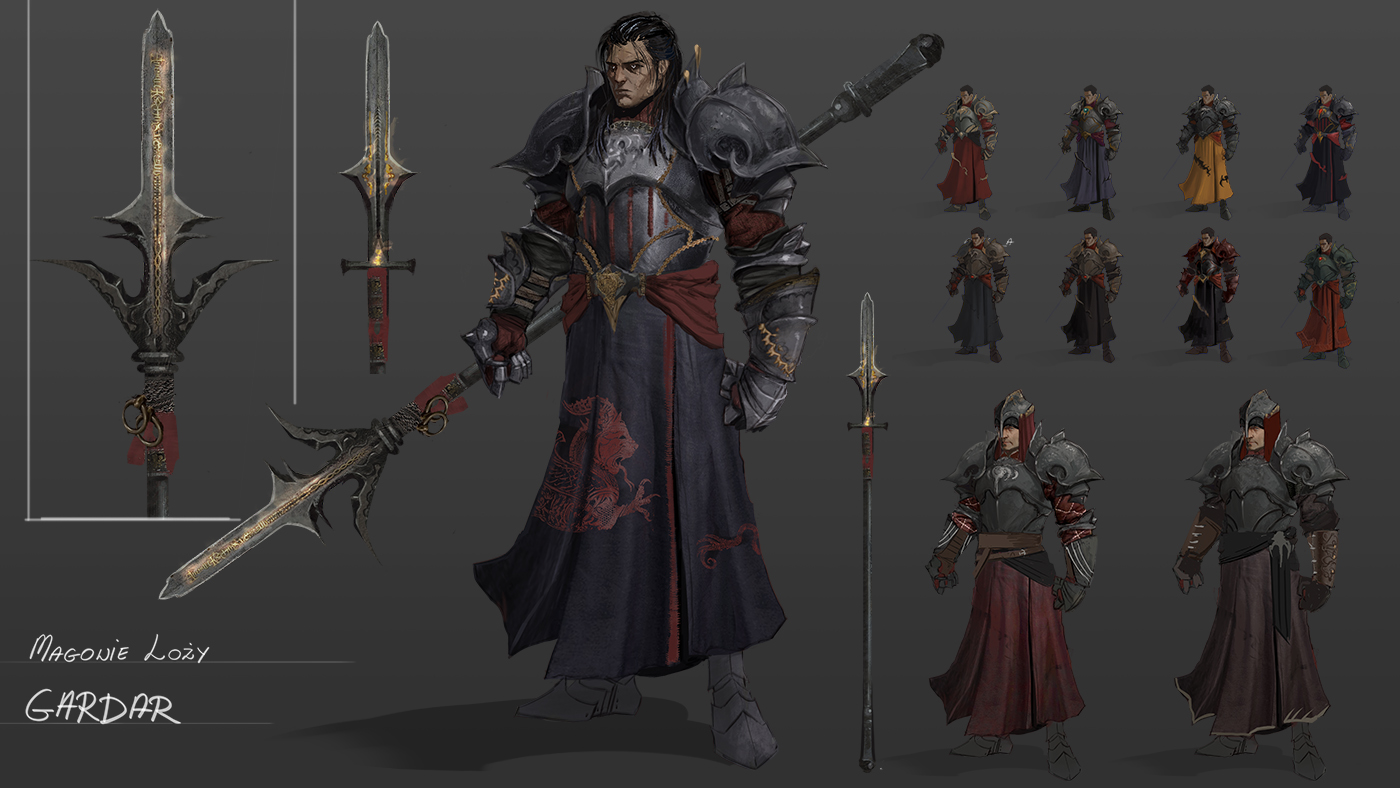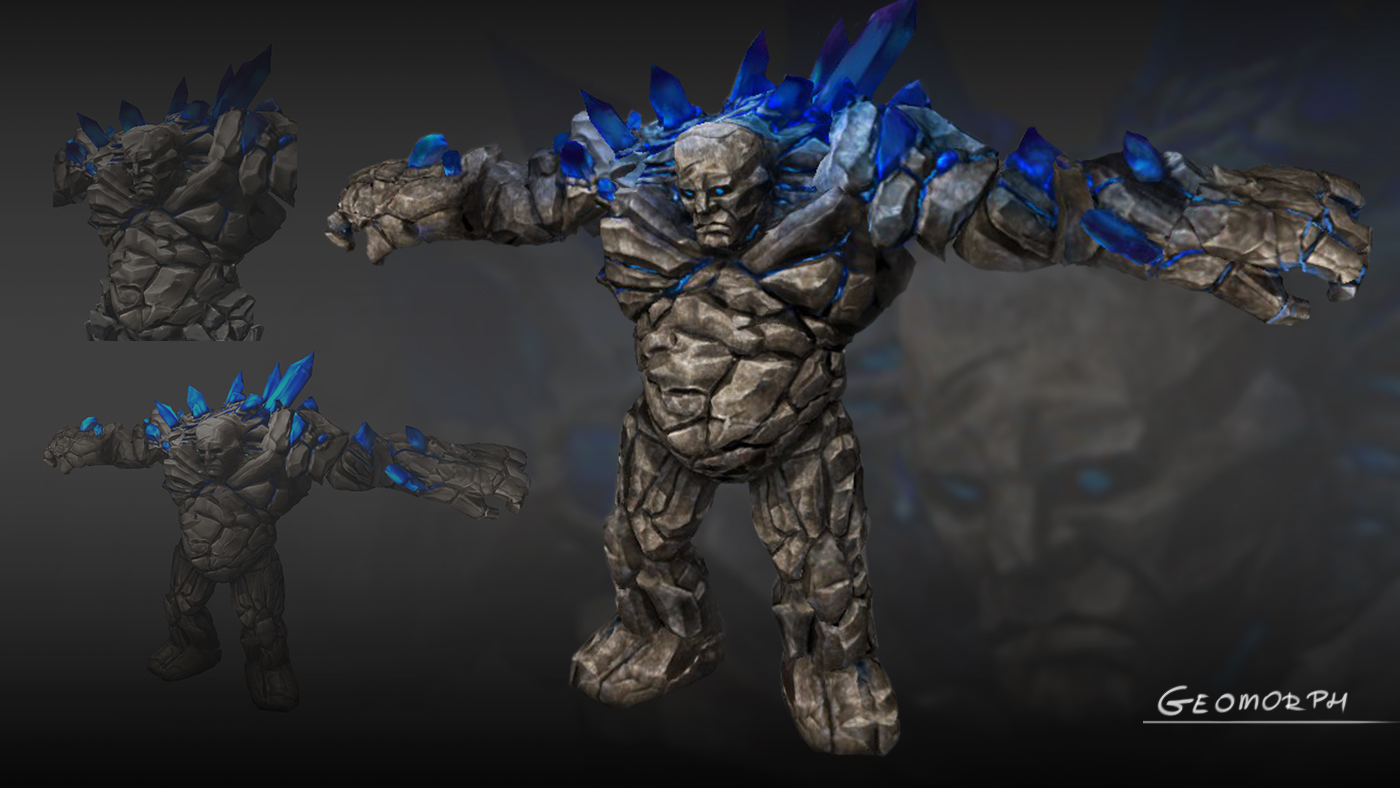 What's new in 2D?
Closed Beta 1 is finished and we've reached some conclusions that may also affect 2D. It's a subject that has been close to your hearts for a long time – what about shields? Should you equip them or not? How will they function on a druid? What to do? How to play?
Until recently we wanted to make the shield a situation item and that's what we've been sticking to in the design process. Whether it'll be the same in Broken Ranks or not was something that future tests would tell. And so, after CB1 and with the Voodoo changes, two very important problems suddenly became very prominent. And their source, among others, is the shield
As mentioned above, in Broken Ranks it's mainly a question of character animations. The ability to use shields, or generally weapons other than the class ones, severely limits the possibilities for combat animations. They need to be as universal as possible and adjusted in such a way that they look good and clear with any weapon equipped. Characters attacks need to look stunning no matter if your character is wielding a giant hammer or an elegant dagger. It also needs to be clear what type of attack this is. So animations need to do all of these things. And if something is too universal, it becomes good for nothing. Some animations are very repetitive and sometimes it's hard to tell one class from another by the way they attack. Combat is the core of our game, so it has to look perfect. After the tests, we concluded that the current animations are fine but they lack individuality and character. It's not only about the visuals – it's just hard to speed up some melee animations if they need to be made in such a way that they support every weapon type. That's why we want to get rid of this nuisance. Thank you this, animations will be much more effective and dynamic, and also unique for each class. We'll also be able to implement combos, visual effects and other things that will make combat look even better. Gameplay will also benefit – it'll be easier for us to make attacks in different zones take a similar amount of time.
The issue in 2D appeared some time ago. Before we started working on classes a year ago, class weapons were mostly left in quick change slots and bosses were fought with four shield-wielders and one damage dealer. It wasn't meant to be this way. The further into the game, the more difficult bosses are and so shields became more and more important to the point that you'd never go kill a boss without one. Even if you had an epic at 8. We tried to limit this but our success rate varied from one class to another. When we reached Voodoos, we had to make a decision on how we were going to approach the ability to use shield with a new skill that increases survivability . If we allowed you to use them together, it'd be overpowered. If we disallowed the usage of a shield just with this skill, we'd accomplish nothing. Since wearing a shield has no side effects and they have low requirements, investing in the new skill would be pointless. You'd still be wielding a piece of furniture in your hands. If we blocked other skills with a shield equipped, it wouldn't be great either. Shield would then become useless and investing in strength to wear them would be pointless.
As you can clearly see, shields are a problem. They limit our creativity both as far as the visuals of Broken Ranks go, and also give us a headache when we try to balance them in both versions. That's why we decided it's time for shields to go and it'll happen still in 2D. Since they will become unusable by classes other that the Knight, we are planning to compensate you. For now we are finalizing the details and we'll give them to you as soon as we know the final version of the compensation. Of course, you can also keep your shield – in Broken Ranks, crafting will play a much bigger role and it may be useful for you then. However, we still have nothing to share with you as far as crafting goes, so please don't treat this as a promise.
What are we going to balance next?
Voodoo is closed for the moment but there may still be some tweaks if we think they are necessary. Now we're going to take a look at another class – something you've been expecting for a long time. Yes, it's time for the Barbarian and that's what we want to focus on. We don't have any details to share yet but as soon as there are some, we'll let you know.
The other profession we need to review is the Druid. In this case, the changes aren't going to be too complex, we mostly need to think about their survivability without a shield, especially on end-game bosses. Fortunately, Druids already have a skill that we'll need to work on and adjust to the new circumstances – Fade.
One-handed weapons for mages are another matter. In 2D we're not going to change them into staves but we'll take a look at their parameters and bonuses. They may be lagging behind other weapons as they were meant to be used with a shield. We'll adjust them accordingly.
Additional security
We'd also like to mentioned the additional security options you can now set. Apart from hiding your email in the top, left corner and on the login screen, we've also added a new notification system. By clicking the Secure button in the character selection screen, you can choose what type if security you'd like to have. Enter 0, 1 or 2 to enable the following options:
option 0 – no additional protection,
option 1 – email notification when you log in from a new device,
option 2 – every new device will need to be confirmed by clicking the email in the message.
Closed Beta 2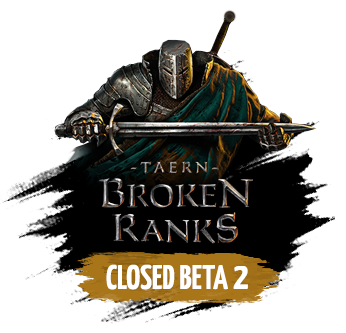 It's coming. 🙂 Stay tuned!