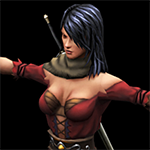 In this post we would like to answer your most pressing questions about the 2D client. We'll also tell you more about the playtests of Broken Ranks conducted by a consulting company. You've been asking us a lot about Guilds so as a cherry on top, let's take a look at new guild building concept arts.
Desktop client
The good news is that the client for the English version of the game will be ready in about two weeks. Thanks to it, you'll be able to continue your adventures in Taern even when Flash is disabled. When the client is ready, all you'll need to do is install the launcher and it'll automatically download all the files you need for the game. On the plus side, having a client will make patching the game much more comfortable for you.
Windows and Flash Player
While we're talking about the client, we'd also like to mention something you might have read on other websites. Microsoft has released a new update (KB4577586) for Windows 10 that uninstalls Flash. In addition to that, the update makes it impossible to install Flash again. So far, the update is not part of the automatic Windows Update system but it will be at the beginning 2021. That's why it's so important for you to install the client once it is available. Otherwise you'll not be able to play the game after Flash is disabled.
Launcher troubleshooting
As for the client itself, we'd like to address some issues so you know what to do when it is available. First of all, sometimes the installation process may stop dead and the installer will not be doing anything. If this happens, just download the file once more and try again. This issue is caused by an incorrectly downloaded package, e.g. due to the server being overloaded. The same goes for any errors after installation,during downloading, and after the gamefiles are unpacked. In most cases, uninstalling the launcher, removing any remaining files, and installing it again solves any issues.
We're also trying to fix this on our end. We'll be adding a file verification module that'll check if everything has downloaded correctly and if any files are missing.
Zoom for high-resolution screens
We've also added a zoom function that you can access by clicking on the plus and minus symbols at the top of the screen. It is especially helpful with high-resolution screens because otherwise the game world becomes very small. You can use the zoom when walking across the world and in combat.
Faster loading and better performance
Thanks to the client, maps are loaded much faster and the game doesn't slow down when you're doing something else and minimizing the client window. We are very happy about this and we're sure you'll be too 😉
FAQ
What about players logging to the game with Facebook?
The issue here is more complicated that it may seem. We're currently working on making it possible for people using Facebook to transition to the client without any issues. We'll have more information for you soon.
What about people using a Windows version older than 7, Linux or an Apple product?
The game client is only compatible with Windows versions 7 and higher. It will not work on Windows XP. However, you shouldn't worry about this. To quote Drygu: 'Windows XP has the upside of not getting any more updates. This means that the browser version of the game will still work in 2021.' The same is true about Linux – the launcher will not work but you'll still be able to play in your browsers. As for Apple products, there will be no client for the current version of the game. However, Broken Ranks will most likely have a client for Apple.
Is there a mobile client?
There's no mobile client. However, the game should continue working on mobile browsers (e.g. Puffin and Dolphin) without any changes.
Broken Ranks
Tests by TryEvidence
The most important thing we want to talk to you about are tests. We've received the second playtest report. They were conducted using the same techniques as before but on a larger audience. Of course, they were carried out after the issues from the previous report had been fixed. The analysis of these reports will dictate our priorities when working on Broken Ranks so some members of our team have been diving deep into them. The testers were told (like the last time) to finish the beginning of the main storyline, which means the prologue together with tutorials, some new quests and initial instances. Basically the starting area.
Test reports
So how did the tests go?
We've been praised for the excellent graphics, engaging quests, and interesting main storyline. However, the thing that's been complimented the most is our combat system – it's very original and creates interesting and immersive fights. It is our biggest asset.
As for complaints, we've been criticized for all the elements that we know are not yet ready but we're working on them. The combat system and mechanics are much better explained than previously but still more advanced information is missing. We'll be expanding the current tutorial system if it proves to be effective.
Other complaints:
no exploration elements – we've left the map component for the last stage of improvements.
no crafting – at the moment gathering is not implemented at all in BR (we've left the implementation of it for the end) but the current system will be fully transitioned from Taern before the release. A more extensive crafting system is something we'll be adding in future updates.
character development at lower levels and platinum transactions – we need to rebalance the economy of a new server at lower levels and this is also something we've left for last. We need to discuss how easy it should be to get equipment, gold and experience. It's something we haven't touched for years. On the existing servers, you can buy anything from other players. New servers will not have this option. The testers were also under the impression that you can't buy anything in shops without platinum – we'll improve the UI to address this. Another issue was that pets can only be bought with platinum.
Here's a question for you: what are the other obstacles for new players? What do you think we should improve to make new player experience better? Especially at low levels? What would you change?
we've also received a lot of miscellaneous feedback and suggestions about UI: combat, interface. We're still working on these elements and the current appearance of the game is not final – we leave these changes for last because later on we may add some new functionalities that may need to be included.
What's next?
It's easy to guess what our next steps are:
finishing the tutorials – we know that enfranchised players don't really care about tutorials. However, they are extremely important for those players who'll be joining us when Broken Ranks is released. It's the first moments that often decide whether a player continues to play or abandons the game entirely. Our new tutorials that focus on gradual and precise explanation of various game mechanics have received much praise. We still need to finish them – create advanced combat tutorials that players can replay whenever they want.
exploration – we definitely need to improve this feature. There are two parts of it:

finishing the world map with its additional features (uncovering newfound areas, adding a list of NPCs with quests/tasks, shops and various other information).
adding a basic feature that promotes exploration and adds incentives for completionists – the game world will be divided into parts and each part will have a number of quests to discover, tasks to take, instances to do, etc. It will be very tightly related to the map.

improving UI – finalizing every detail of the interface.
balancing the starting areas focusing on new player experience (ways to earn gold, get equipment, potions, pets, leveling pace, quest rebalance, etc.).
In addition to the points above, we're also working on two major improvements indirectly related to chats:
party finder
and (this is not a joke!) a marketplace. Yes, this one is mandatory. Really!
That's all as far as the things we're still working on. As for the whole transition from Taern to Broken Ranks, a majority of the work is done.
What are we working on?
We are still in the middle of the boring process of transitioning and improving hordes of mobs, NPCs, quests, animations, art, etc. We've also started working on one of the major undertakings – redesigning the avatars of NPCs and mobs. However, this one doesn't need to be fully implemented before the release. We'll do as much as we can. In short, we want them to be bigger, more pronounced and drawn consistently in a more modern style. Below you can see examples of how the new style will look in practice. This is how we want all avatars of NPCs and mobs to look. Here are the faces of two guards you'll meet in Trentis – Ollte and Enas:
After clipping to the right size, Ollte's avatar will look like this in the game: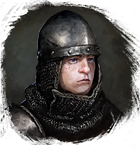 Quests
And while we're on the subject of quests, let's explore it a bit more. We are in the process of transferring existing quests to Broken Ranks. At surface level, this may seem easy. Copy + paste and we're done. 😉 However, implementing them like this would make them compare very unfavorably to the new ones. That's why we're making minor or major changes to most of them. We are also going to simply remove those that are the most badly designed and add nothing to the lore of the game. Walls of text, lots of descriptions, too much tell and not enough show – these are the things we know well from 2D and it's especially true for the oldest quests. Their refreshed versions will be more dynamic, both in conversations and mechanics. They'll be more interesting and include more eye candy.
Main storyline
We are currently finalizing quests in the area of Trentis. Most of them have been tested and their development is finished. At the moment we are working on quests from two other big regions: Alaril together with the caves as well as Khold Forest and Mountains. We've also begun checking the main storyline. We want to treat it with special care. In the end, fighting for Taern is the greatest and most important task. We want players to feel even more involved.
Of course we haven't forgotten about adding new content. Recently we've added a new boss quest (in the end we want every boss in the game to have some story behind them) – something for those who like to spend hours in the Bear Den. Is it possible to use the setting of Romeo and Juliet for a quest that involves the bloodthirsty Bear? Of course it is. We're also going to twist and turn the story a little bit, and add some magic… In Broken Ranks you'll be able to acquaint yourselves with this slightly strange yet very engaging story. 😉
Graphics
We're also working on improving the visuals of the most important elements of quests. One of the most memorable characters in the main storyline is undoubtedly Kadri. She'll be helping us in Broken Ranks too. Not just with her words but also with two swords. She's young and attractive. On top of being a battle-hardened warrior of course. You'd better not mess with her! And here you can see her unique model: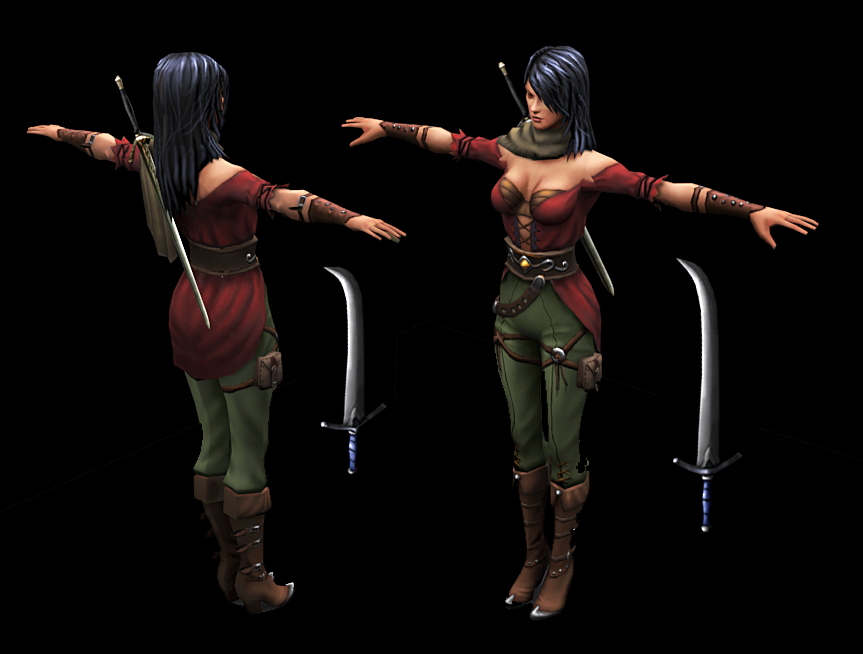 We could be asking you if you like Kadri's model but with the next mob whose appearance we've managed to finalize, this question seems superfluous. Here's the new ogre in its full glory: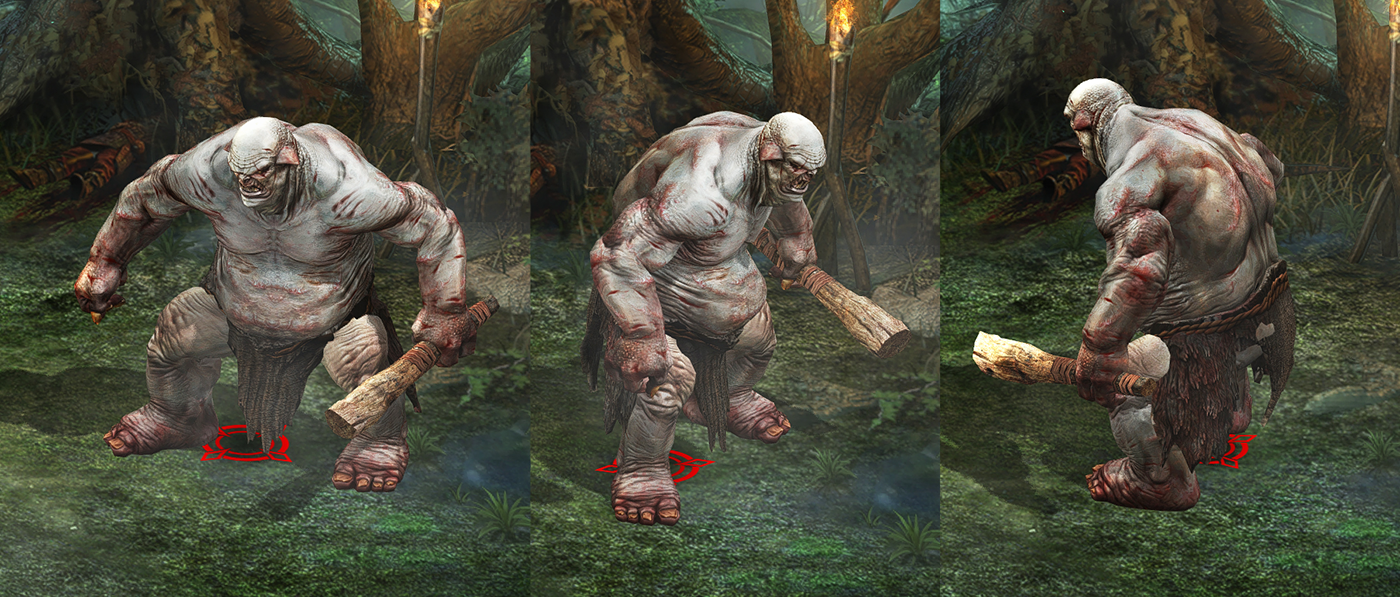 Guild arts
In the previous post, we added some concept art of guild buildings. We are still working on them and we would like you to see how the concept art of the teleporter and deposit is evolving: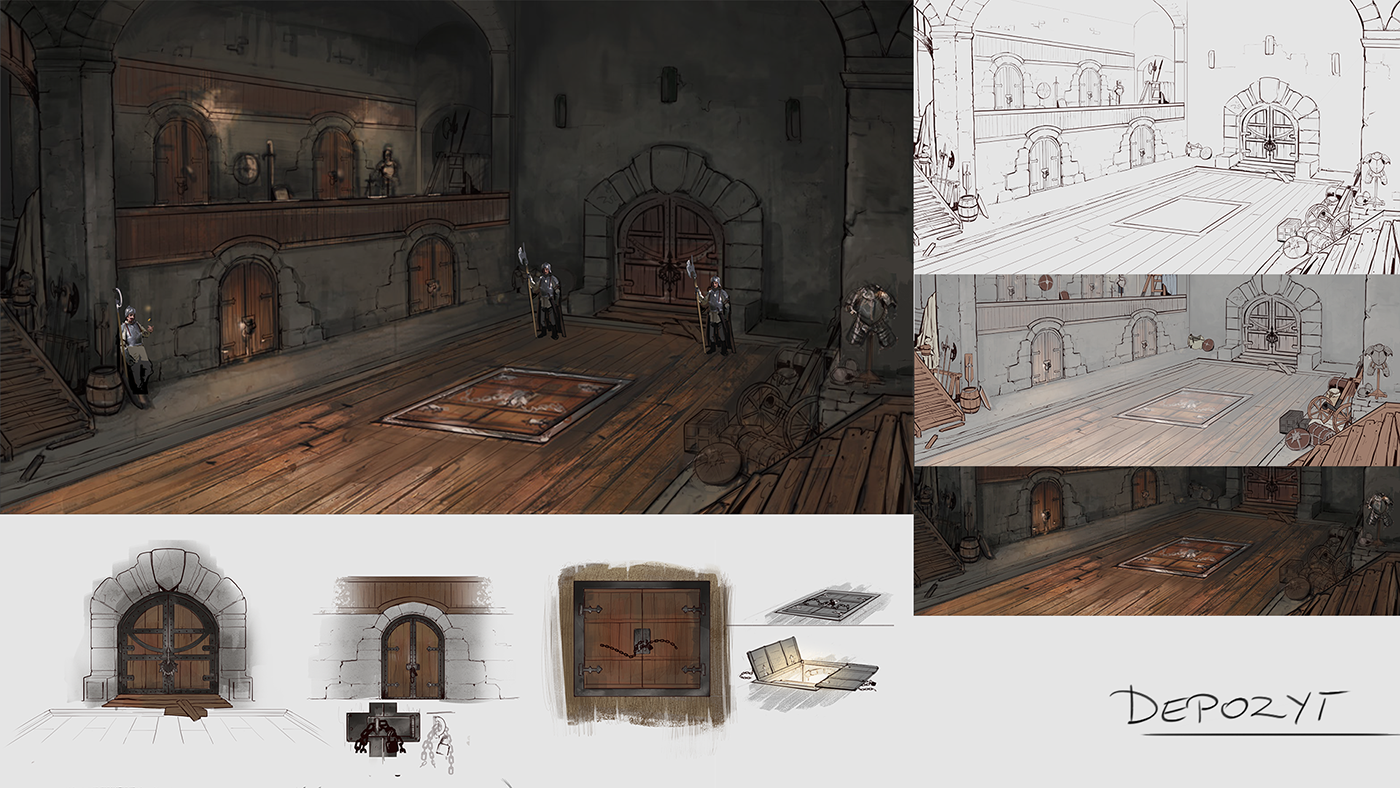 Cages are on the next stage of development. Here's a render of a 3D model created based on the concept art from the previous post: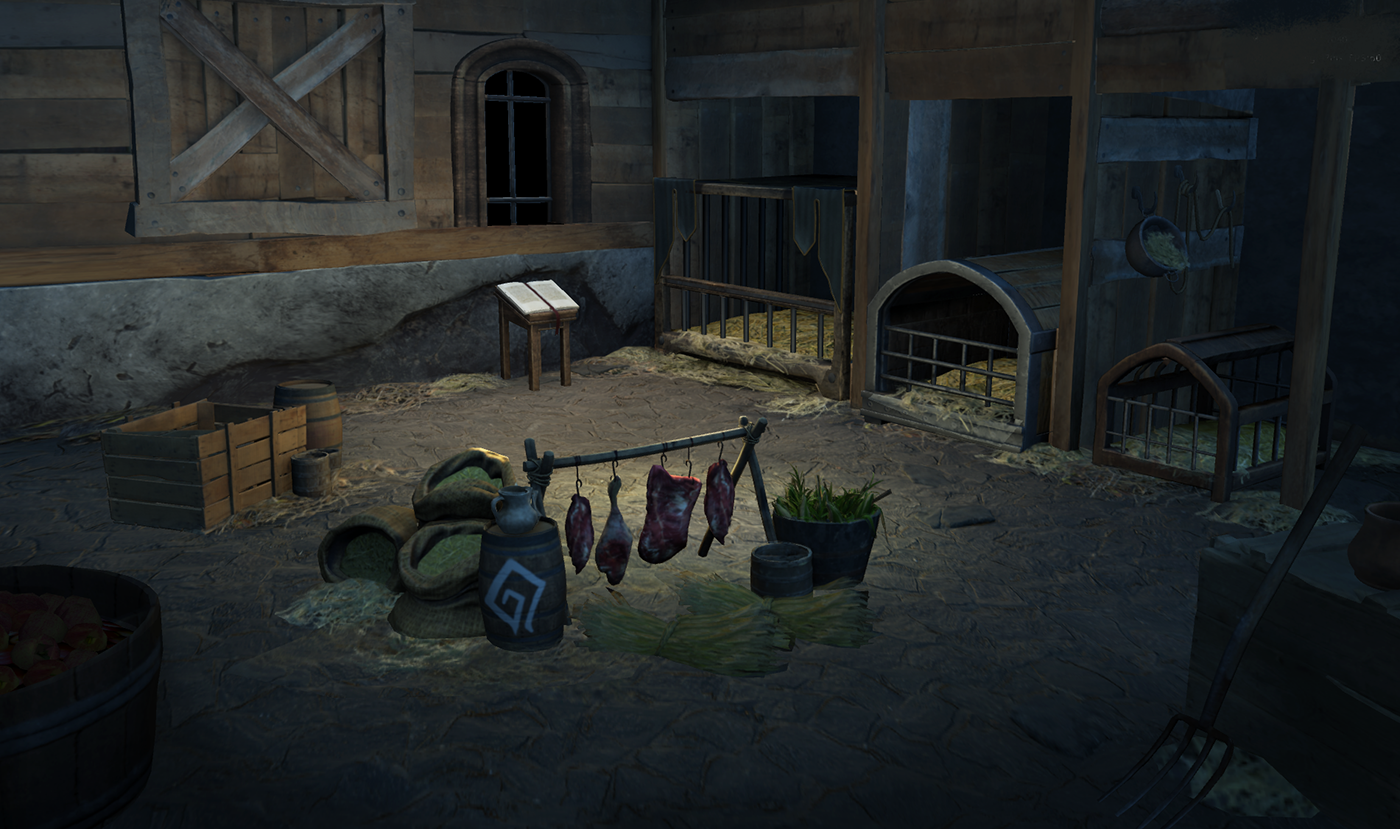 And that's all from the world of Taern. Thank you for reading the whole post and see you next month. And don't forget to let us know what you think about the content of today's post in the comments below!